OUR CELEBRATION OF THE LAMB/WALDRON FAMILY'S 50 YEARS of PHILANTHROPY IN THE PACIFIC NORTHWEST WAS A SUCCESS!
A HUGE THANK YOU TO ALL WHO ATTENDED!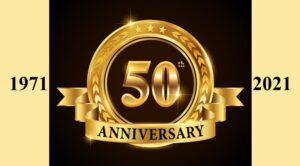 31 family members gathered for all or part of the celebration
Friday, August 19 – Sunday, August 21, 2022
at the Hallmark Resort & Spa, Cannon Beach OR
Friday night we gathered, caught up with each other, ate a delicious meal together, and watched an introduction and informative history of Lamb Foundation.
The family was given three organizations to choose from
that represent the three Foundation's areas of interest:
CHOICES were:
the family chose Olalla Center Relief Nursery to propose to the board
for a $5,000 family discretionary grant.
At the meeting on Saturday, the board made 15 solicited grants totaling $265,000 and
23 discretionary grants totaling $35,770. TOTAL ALL GRANTS made 8/20/22: $300,770
(Lamb Foundation has only given over $300,000 in grants in one other year since 1971)
Discretionary grants included directors and emeritus directors proposals, plus the $5,000 family discretionary proposal,
plus a $5,000 proposal selected by the attending youth and young adults to Oregon Environmental Council.
At the meeting we also introduced the new discretionary giving program
for all members of the Frank and Willie Lamb and Corwin and Louis Waldron families, ages 8-22.
Lamb Foundation encourages participation from all family members.
Board eligibility starts at age 23, but there are many other ways to be involved.
Also feel free to contact a board member or staff.
THANK YOU FOR SHARING THIS INFORMATION WITH OTHER FAMILY MEMBERS FOR WHOM WE MAY NOT HAVE CONTACT INFORMATION.
 After the meeting, we gathered on the beach for a Family volunteer beach clean-up event with one of our grantees, Sea Turtles Forever,  www.seaturtlesforever.org It was very informative and a fun, hands-on activity on the beach.  We removed toxic microplastics from an area of the beach near Haystack Rock, making the beach and ocean a little safer.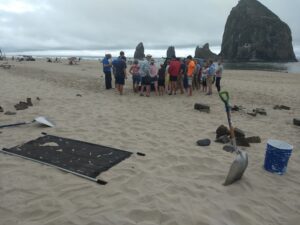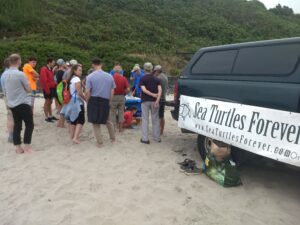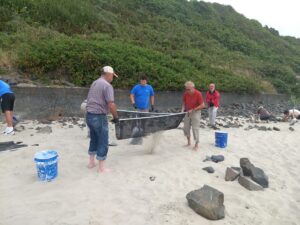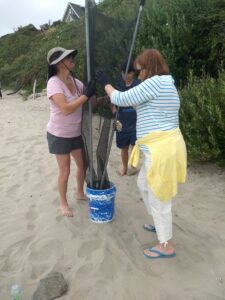 Saturday night the family gathered for more time together.